Lady Midnight by Cassandra Clare (my fave)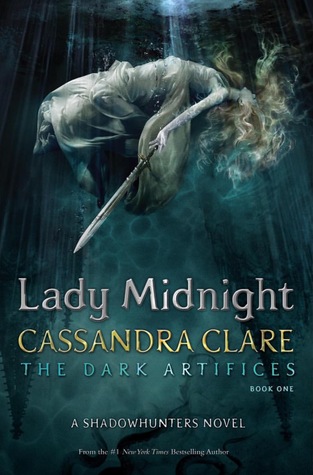 With over 10 other books, it thought for sure Cassie has reached her peak in writing. I was, thankfully, mistaken! THIS HAS TRUMPED ALL OTHER SHADOWHUNTER BOOKS. 

I honestly thought Cassie couldn't top Clace or Wessa or the painstaking angst inside the halls of the Institutes; but I was wrong. Jemma/Blackstairs/whatever you want to call them- are now my favourite couple. Like ever. Of all books. Not just Shadowhunters; of all books. 
It's probably a bold choice for me to say, since other ships that are close to number 1 are; Anna and her French beau (bless), Edward and Bella (I'm not sorry at all), and Christian and Lisa (holy hot damn is all I can say for them). Don't take mistake this as me saying Clace and Wessa are crap compared to this ship, because they're amazing and I've cried over each of those ships multiple times, but there's something that Cassie had finally nailed that has captured PURE GENIUS into this storyline.

When I first found out the new trilogy was set in LA, I cringed and was immediately off put. I'm not a fan of reading anything beachy or in hot places, I prefer mystical forests and epic urban architecture. But somehow, Queen Cas has turned me into loving this location (which is a big deal since I'm more stubborn than 1000 Clary's combined). 

I apologise if my review isn't helpful, I'm still kinda shocked after the ending. THE ENDING. Ohhhhhhhhhhhhhhhh it's going to take a long time to get over this book hangover. Lady Midnight has such wonderful mystery that I completely didn't suspect, ever. It ties in so well by the end and I just want to bow down to Cassie's amazing talent. 

This is my new favourite book, and I'll definitely be reading it over and over. More times than the other Shadowhunter books. It's such a funny and refreshing read from the other instalments. But this is a Shadowhunter novel, and with all the hilarity; comes gut wrenching sadness. And somehow I enjoy it? What has Cassie turned me into???

My favourite things:– Jules (sorry Herondale boys, as much as a slut I've been for you guys in the past few years; Julian Blackthorn is now number 1)– Church. I don't even like cats (I'm allergic too), and after reading about this fluff-ball I want one– The NYC gang tie ins– The deeper insight into the Faerie Realm– MOST IMPORTANTLY; everything to do with the dear relationship of Emma and Julian. I can't get enough of them. They're cuter, hotter and even more tragic than any of the ships from the previous novels COMBINED. I don't think I'll be getting over them anytime soon.
I'll probably update this review later, but for now this is all I can fathom while in this post- LM state. 19/3/16.

One thing I know for sure; this book 100% deserves 5 stars. I've rated some of the other Shadowhunter novels 3-5 stars, but I may need to knock all of them down a star since this has raised the bar for top-notch quality sexy demon hunters who have teen angst.