Origin by Jennifer L. Armentrout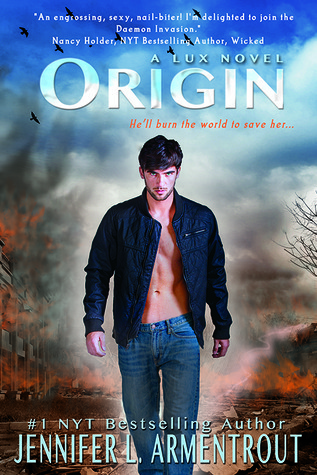 Ugliest cover ever

You wouldn't think I'd give this book 6/5 stars with the ugliest cover I've ever seen. But I have.

This book makes up for the previous, thank god. I thought it was going to focus around the kind-of-boring-after-4-chapters DOD Area 51 hostage. But hooray- surely not. So many romantic moments, and not like the Opal moments (which were meh), like REALLY CUTE/I WAS "AWWW"ING SO LOUD cute moments.

Spoiler paragraph:
– Matthew's betrayal- amazing, I'm glad we finally see him truly.
– Beth's pregnancy- I'm thrilled, and totally called it (not in a bad way, I must add).
– THE WEDDING. BLESS MY QUEEN, SHE MADE THEM GET MARRIED. THIS IS THE MOST UNREALISTIC BUT BEAUTIFUL LOVE STORY EVER.

Okay seriously, the cover is hideous. I wish I could paint over or something. THERE'S ORANGE TEXT OVERLAYING THE PALE BLUE BACKGROUND. I cringe dearly.

There's not much to say, this book was perfect? It was exciting, with a good pace (very good pace), and the ending has left me wanting more!

I have suspicions that Katy is also pregnant- one can dream (in their weird, cliche ways) anyway. I really enjoyed seeing Daemon's perspective.

The only thing I would've liked to see was Bethany returning? We kind of skimmed over that, and boom she's friendly and normal to Katy? I'm sorry, but the only impression I have of her is when she threw Katy onto the wall and was bat-shit crazy. So forgive me for not warming up to her just yet. I don't know how I feel about Dawson. At some points I just want him to shut up, but at the end I liked his interactions with Beth.

The smackdown was AWESOME. I would looooove to see his as a movie, I honestly think it was one of the best action scenes written.

I want to know more about how's it like in West Virginia. Which reminds me, I need to look at a map. I thought WV was slightly SE of Washington, but Katy made a few comments about the distance between Nevada and WV (time zones) as well as WV apparently being near Maryland (which I vaguely know where it is, from Hairspray)???? I'm not from America, and I really only know where NY state, California, Washington, Oregon, Florida, and Texas are. All the other states- well, they beat me!???

Now I'll have to wait another 2 weeks for the sequels to deliver, and by then, I'm back to school D:<

I recommend to those who enjoyed reading Breaking Dawn. You'd love this 100% like I did! 🙂

I NEED TO READ ABOUT THESE DAEMON BABIES ARGH!