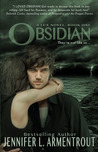 Obsidian by Jennifer L. Armentrout
My rating: 5 of 5 stars
If you are related to me in any way, I'd appreciate if you didn't read this post. Unless you wanna read about me having the obscene hots for fictional characters. Thanks.

SECOND TIME READING
This was a fun read. Super easy to go along with. I still think I like Book 2 (Onyx) even more.
I read this as a break from my super-intense ToG binge. But I'm back to that now 🙂 EoS here I come.
When I first read this book; I thought it was the hottest thing ever (lol young Cal hadn't found The Hating Game's Joshua Templeman yet) but this time I was like ?? okaayy. Fine.
oOo
FIRST TIME READING:
I've read and reviewed this book? It's probably my favourite books I've read this year…. and it's all gone… where did it go?