Big Little Lies by Liane Moriarty
My rating: 5 of 5 stars

MY EXPERIENCE WITH THE BOOK:
This book was a rollercoaster! I entered the story knowing nothing, besides the fact that it was written and based in Australia (my home) and that HBO starred three of my favourite actresses in an American edition!
As for a non-spoilery reaction, quickly skim my updates hehe:
April 30, 2018 –
90.0% "HOLY
FUCKING
SHIIIIT
Perry?!? Saxon?!?
I can't breathe!"

April 30, 2018 –
69.0% "I think Abigail needs to die."

April 29, 2018 –
57.0% "I want to kill Nathan."

April 29, 2018 –
41.0% "I love Ed!"

April 29, 2018 –
35.0% "I can't wait to listen to more of this!!!"

April 29, 2018 –
31.0% "I hope Perry suffers."

April 29, 2018 –
30.0% "I hate Nathan. I hate Abigail."

April 29, 2018 –
16.0% "Poor Celeste :("

April 29, 2018 –
8.0% "I hate Renata!!!!!"

As you can see, I had a love/hate relationship with all the characters in the book and was continually surprised.
CHARACTERS/DYNAMICS:
Since I review books for fun, it's too hard and unenjoyable for me to go into critical analyse of these characters. Simply put, they are motivational and complex, and completely original. I think many people did not like these Aussie mothers but loved the American adaptions. I give a few harrumphs to that and dismiss the fact that these readers weren't raised in an Aussie suburb.
Celeste:
Beauty queen, married to a handsome and wealthy husband, AND has two beautiful twins. What more could she want?
To get away from a high concern in Australian households: (view spoiler)[domestic violence. (hide spoiler)]

Madeline:
Madeline was my favourite mum in this series! Although all are enjoyable and humble (in their own ways), Madeline has the least amount of toxicity and drama in her life, with an admirable loving family. Madeline is a wholesome character who I believe has no faults. She loves fashion, so yes, you can count her a bit conceited (if you tend to judge by stereotypes), but the reactions she has to jealousy and envy were extremely relatable.

Jane:
The most scandalous of the mothers, young Jane. Jane is also the most sincere and innocent mother, which is such a shame since she was also the most outcasted by the Blonde Bobs (aka horrible mothers who live vicariously through their infant children). Jane is a single mother, 24 years old, with a son called Ziggy. Their story is indeed more universal for younger readers (and by younger, I mean mature young adults). Although there are anecdotes to school-bullying, a dark drama unfolds, to do with Ziggy's mysterious father.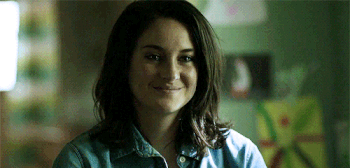 Overall, the husbands were equally eye-grabbing, and I made me want to read/listen to more due to their own scandals! (Underlying moral: men are evil, and nobody should ever marry. It's never worth it. Unless you marry an Ed.)
PLOT:
Extremely trivial, or so many think, until it's closer to the infamous Trivia Night. For sceptical readers: stay strong! It gets better! There's a lot of subtle clues of this mystery found in the 'petty' dramas between the mothers.
STRUCTURE:
Big Little Lies contains a mixture of police/journalist interviews, flashbacks, and a variety of perspectives. It can be disorientating at first because you're thrown into the world with so many characters! However, you'll master it soon enough (if I can understand it; anyone can)!.
THEMES:
– Domestic Violence
– Bullying (between children, between adults)
– Motherhood
– Teen Angst
– Rape
– Child Sex Slavery/Pornography
– Marriage and Divorce
– Step-children
– Murder
– Aging
– Feminism; female independence
– Single-motherhood
– Rich Australia
– White People Problems
– What Mean Girls Are Like When They Have Babies
QUOTES:
"I mean a fat, ugly man can still be funny and lovable and successful," continued Jane. "But it's like it's the most shameful thing for a woman to be." "But you weren't, you're not—" began Madeline. "Yes, OK, but so what if I was!" interrupted Jane. "What if I was! That's my point. What if I was a bit overweight and not especially pretty? Why is that so terrible? So disgusting? Why is that the end of the world?"

"It had never crossed her mind that sending your child to school would be like going back to school yourself."

"Women are like the Olympic athletes of grudges."

"If parents had children who were good sleepers, they assumed this was due to their good parenting, not good luck."

"When someone you loved was depending on your lie, it was perfectly easy."

THE ENDING:
It's a happily-ever-after, thank god, but it still makes my head reel for all that went on in six months!
IMPACT:
I certainly have a newfound appreciation for domestic violence survivors. I said the same thing when I reviewed It Ends with Us, which we all know I hold an affinity to, but this book has a multitude of contemporary issues in Australian women's lives. I'm so proud this has been such a hit worldwide, and not just Australia <3.