Have you just jumped onto the bandwagon of following Lara Jean's love life? Are you in the mood for some contemporary fluff and tiny moments of embarrassment? Or maybe you've seen the Netflix trailer for the TV show adaption, and you don't want to spoil yourself. Have no fear; the romance trope-queen is here! I will give you a few recommendations and read-a-likes that should help your endeavour for a modern day fairytale.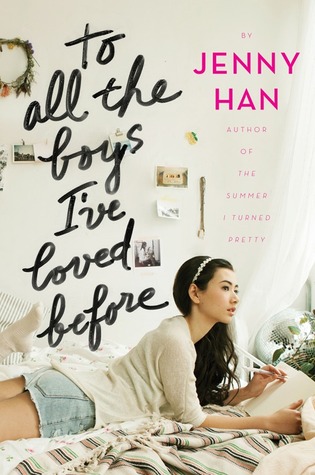 What if all the crushes you ever had found out how you felt about them… all at once? 
Sixteen-year-old Lara Jean Song keeps her love letters in a hatbox her mother gave her. They aren't love letters that anyone else wrote for her; these are ones she's written. One for every boy she's ever loved—five in all. When she writes, she pours out her heart and soul and says all the things she would never say in real life, because her letters are for her eyes only. Until the day her secret letters are mailed, and suddenly, Lara Jean's love life goes from imaginary to out of control.
Read my review for Book One and Book Two by clicking on the links.
Recommendations:
Seventeen-year-old Molly Peskin-Suso knows all about unrequited love—she's lived through it twenty-six times. She crushes hard and crushes often, but always in secret. Because no matter how many times her twin sister, Cassie, tells her to woman up, Molly can't stomach the idea of rejection. So she's careful. Fat girls always have to be careful.
Then a cute new girl enters Cassie's orbit, and for the first time ever, Molly's cynical twin is a lovesick mess. Meanwhile, Molly's totally not dying of loneliness—except for the part where she is. Luckily, Cassie's new girlfriend comes with a cute hipster-boy sidekick. Will is funny and flirtatious and just might be perfect crush material. Maybe more than crush material. And if Molly can win him over, she'll get her first kiss and she'll get her twin back. 
There's only one problem: Molly's coworker Reid. He's an awkward Tolkien superfan with a season pass to the Ren Faire, and there's absolutely no way Molly could fall for him. Right?
If you want the quirkiness of Lara Jean, and her shy approach to romance, check out Molly Peskin-Suso, the protagonist from the Upside of Unrequited.
How to Be Popular by
Meg Cabot
Do you want to be popular? Everyone wants to be popular or at least, Stephanie Landry does. Steph's been the least popular girl in her class since a certain cherry Super Big Gulp catastrophe five years earlier. Does being popular matter? It matters very much to Steph. That's why this year, she has a plan to get in with the It Crowd in no time flat. She's got a secret weapon: an old book called what else? How to Be Popular. What does it take to be popular? All Steph has to do is follow the instructions in The Book, and soon she'll be partying with the It Crowd (including school quarterback Mark Finley) instead of sitting on The Hill Saturday nights, stargazing with her nerdy best pal Becca, and even nerdier Jason (now kind of hot, but still), whose passion for astronomy Steph once shared. Who needs red dwarves when you're invited to the hottest parties in town? But don't forget the most important thing about popularity! It's easy to become popular. What isn't so easy? Staying that way.
If you enjoyed the high-school navigation and social hierarchical drama, try Meg Cabot's oldie but a goodie; How to Be Popular.
The Sun Is Also a Star by
Nicola Yoon
Natasha: I'm a girl who believes in science and facts. Not fate. Not destiny. Or dreams that will never come true. I'm definitely not the kind of girl who meets a cute boy on a crowded New York City street and falls in love with him. Not when my family is twelve hours away from being deported to Jamaica. Falling in love with him won't be my story.
Daniel: I've always been the good son, the good student, living up to my parents' high expectations. Never the poet. Or the dreamer. But when I see her, I forget about all that. Something about Natasha makes me think that fate has something much more extraordinary in store—for both of us.
The Universe: Every moment in our lives has brought us to this single moment. A million futures lie before us. Which one will come true?
This book is more intense and emotional, but the unrealistic love will send you flying.
"One thing my mother never knew, and would disapprove of most of all, was that I watched the Garretts. All the time."
The Garretts are everything the Reeds are not. Loud, messy, affectionate. And every day from her rooftop perch, Samantha Reed wishes she was one of them . . . until one summer evening, Jase Garrett climbs up next to her and changes everything.
As the two fall fiercely for each other, stumbling through the awkwardness and awesomeness of first love, Jase's family embraces Samantha – even as she keeps him a secret from her own. Then something unthinkable happens, and the bottom drops out of Samantha's world. She's suddenly faced with an impossible decision. Which perfect family will save her? Or is it time she saved herself?
A transporting debut about family, friendship, first romance, and how to be true to one person you love without betraying another.
If you enjoyed Lara Jean's funky family, give My Life Next Door a chance. It's heavily family-oriented, with a romantic plot.
To everyone who knows him, West Ashby has always been that guy: the cocky, popular, way-too-handsome-for-his-own-good football god who led Lawton High to the state championships. But while West may be Big Man on Campus on the outside, on the inside he's battling the grief that comes with watching his father slowly die of cancer.
Two years ago, Maggie Carleton's life fell apart when her father murdered her mother. And after she told the police what happened, she stopped speaking and hasn't spoken since. Even the move to Lawton, Alabama, couldn't draw Maggie back out. So she stayed quiet, keeping her sorrow and her fractured heart hidden away.
As West's pain becomes too much to handle, he knows he needs to talk to someone about his father—so in the dark shadows of a post-game party, he opens up to the one girl who he knows won't tell anyone else.
West expected that talking about his dad would bring some relief, or at least a flood of emotions he couldn't control. But he never expected the quiet new girl to reply, to reveal a pain even deeper than his own—or for them to form a connection so strong that he couldn't ever let her go…
Do you love Lara-Jean's neighbourhood? Do you love the feeling of small-towns, small high schools and close communities? This is the book for you!
Sam is a geek movie-buff with a ragtag group of loser friends who have been taking abuse from the popular kids for years. But when the super-cool Camilla moves to town, she surprises everyone by choosing to spend time with Sam's group. Suddenly they go from geek to chic, and find that not everything boils down to us and them. With their social lives in flux, Sam and Camilla spend more and more time together. They become the best of friends, and Sam finds that he's happier and more comfortable in his own skin than ever before. But eventually Sam must admit to himself that he's fallen in love. If he confesses his true feelings to Camilla, will everything change again?
This book is for those who have read all the popular YA, and want to read something that hasn't been overhyped or spoiled.
Summer Days, Summer Nights: Twelve Summer Romances edited by
Stephanie Perkins
This beautiful collection features twelve gorgeously romantic stories, by some of the most talented and exciting YA authors writing today. Includes: Leigh Bardugo, Nina LaCour, Libba Bray, Francesca Lia Block, Stephanie Perkins, Tim Federle, Veronica Roth, Jon Skovron, Brandy Colbert, Cassandra Clare, Jennifer E Smith, Lev Grossman.
If you feel like something different, try this anthology with several popular YA authors. Every single story is like a mini-Lara Jean moment.
The Whole Thing Together by
Ann Brashares
The new YA sensation from bestselling author of Sisterhood of the Travelling Pants, Ann Brashares. Perfect for fans of Zoella, Nicola Yoon, Jennifer Niven and Cathy Cassidy.
Ray and Sasha share a bedroom, they have overlapping circles of friends and the same sisters – but they've never met.
Once, Sasha's dad and Ray's mum were married, and had three daughters. But the marriage crumbled. Now there are two new families with two new children, Sasha and Ray, and during the summer months they alternate sharing a rambling beach house.
Teenagers now, Ray and Sasha find themselves becoming more and more curious about each other. When they finally meet, it's a summer filled with romance and secrets…and a tragedy that will break or heal their families forever.
This book is terribly romantic with unique ways for a couple of teens to fall in love! If you loved Han's writing and her fun idea of the letters, please read this!
Have you read To All The Boys I've Loved Before? Are you excited about the Netflix adaption?