Hosted by Create with Joy: Share book-related news and fill you in on what's happening around the blogosphere. Read more to find out all the bookish buzz on my radar!
Book Reviews from March:
Until writing this post, I had no idea I had such a fun time reading in March! What a lucky streak 😁  If I had to pick my favourite of my 3x 5/5 starred reads, I would pick… Fountains of Silence! That may be because it's the most recent book I've completed, but it was also incredibly written and romantic. Queen of Nothing was fun and I enjoyed the suspense (QoN >>>> TWK). I highly recommend YA lovers to read House of Salt and Sorrows— that was such an original stand-alone, perfect for anybody who loved Malcolm's story in Lady Midnight.
Reading Challenges:
So far I have read 28/150 books for my Goodreads Reading Challenge.
Can Goodreads please stop being a b*tch and calling me out??? I will catch up during quarantine (especially since prac-teaching was cancelled– all 5 weeks!).
Another reading challenge I wanted to participate in but didn't have the time/spoons for was the #AnimalCrossingReadathon: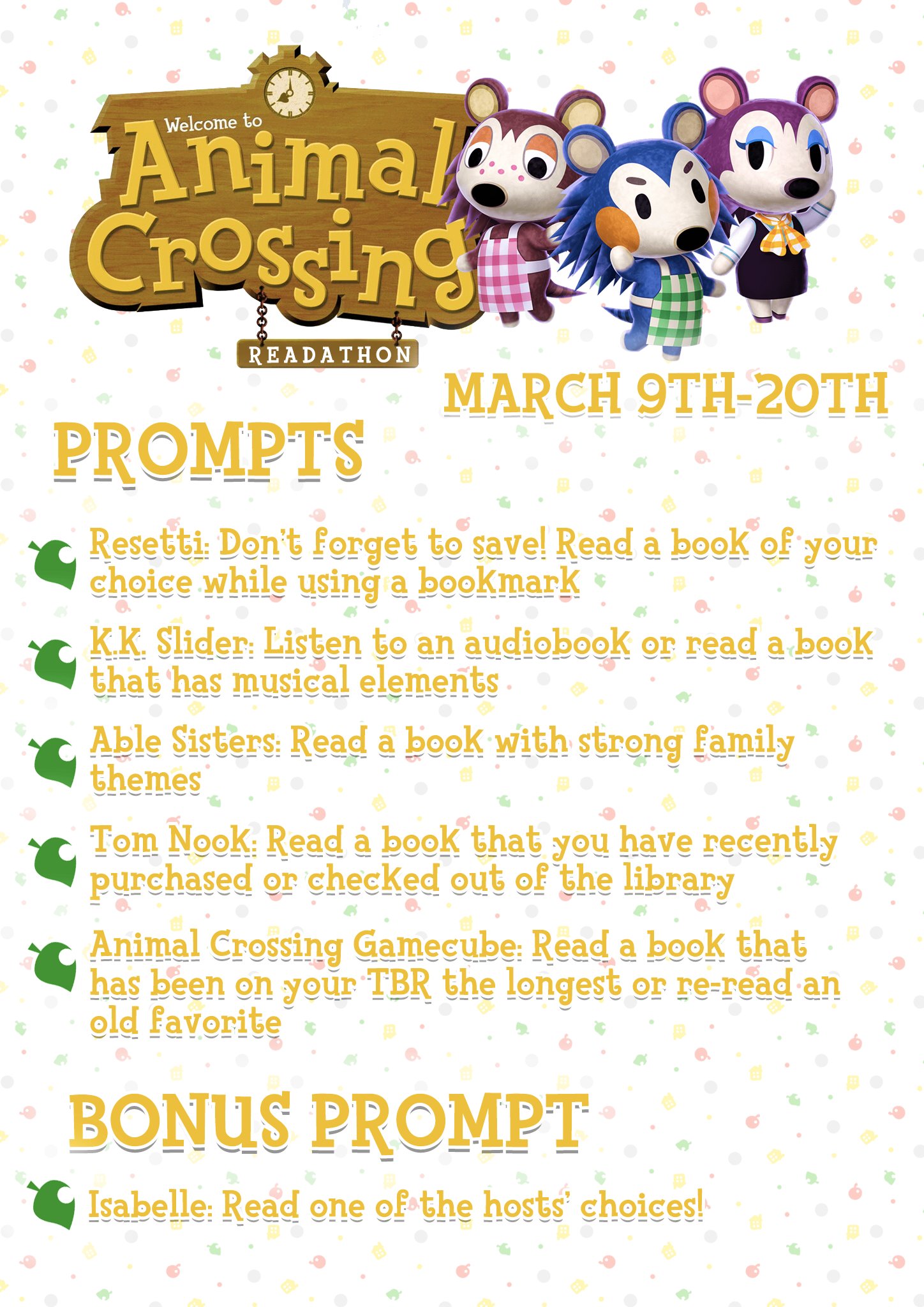 I'm bad at completing readathons and reading challenges because I already have an owned AND library TBR (each with 20+ in their respective piles next to my bedside). If I try to fit into a theme or any prompts, I will lose momentum on my Stacked Up Shelves! Here is my other neglected reading challenge: Dymocks' Reading Challenge 2020 | #DymocksReadingChallenge
The corresponding books:
A book by an Australian author = Astrid Scholte
A book by an Indigenous author
A book from our Top 101 = QoN
A book from our Kids' Top 51
A Dymocks 'Book of the Month'
Re-read your favourite book of all time
Ask a friend for a recommendation
A book featuring your favourite country = fantasy x Russia
A book from your TBR pile = Call Down the Hawk
An award-winning book = TWK (Goodreads' Choice 2019)
A Mystery/Thriller = House of Salt and Sorrows
A Memoir
A book outside your usual genre = Historical Fiction
A book of short stories
A Self-Help/Motivation
A Fairytale/Fable adaptation = Twelve Dancing Princesses
Book 1 in a Fantasy series = The Evil Queen 
A book that teaches you something new
A book adapted into a film/series
A book with a red cover = Queen of Air and Darkness
A book with a colour in the title
A book you can read in a day = undisclosed!
A book about books
A book that makes you laugh
A book published this year
A book you said you've read but haven't
10/26 challenges completed. Only 16 to go… 
Articles About Reading, Writing, Publishing & Literacy:
How to Support your Local Bookshop during the COVID-19 Pandemic – Aussie edition.
Author News:
Leigh Bardugo confirmed that the Six of Crows characters are all Muslim (lol, she was so cute):
KAZZIM BREKKER CONFIRMED BY LEIGH IM SCREECHING pic.twitter.com/wI7tRaVaH7

— dana (@helnikss) March 29, 2020
Rick Riordan reviewed City of Bones (the worst book written by Cassie) a 4/5 stars, and for some reason his review from 2014 was trending on my Goodreads feed:
Sarah J Maas got drunk with her husband on YouTube live:
S. Jae-Jones was active as ever on Twitter (she's pretty much all I see on my Twitter list: Favourite Authors, lol).
Bookish Groups and Events:
Goodreads bookclub, Bookworm Bitches, is hosting a COVID-19 readathon: #FlattentheCurve by Reading- athon. The host (Kate) invites us all to join:
"Considering the majority of us are probably under lockdown at this point, let's get some pages in! We bookworms have been training for this for years! Let's see how many books and pages we can get through in quarantine. It doesn't matter what you read, how you read it – or listen to it, or where you do it…. as long as you are working to #flattenthecurve, you are in!" 
I recently chatted to her in private, saying it's such a great idea to host an event that also contributes to our troubling times. I don't think many of us bookworms are the ones who are actively seeking to go outside in the first place, but regardless, this could engage new readers and spread awareness to #FlattentheCurve. I know for at least the Australian climate, the population is not taking it seriously (a major factor is due to our ineffective leader, as well as the false-sense of security of isolation that comes with Australia's national identity). Who wants to be part of something special while also continuing to do what we all love? All from the comfort of staying at home?!? Be sure to sign up and join Bookworm Bitches on Goodreads. 
Don't know what "the curve" is? Check out this video by Australia's ABC:
---
Thanks for reading, friends! I hope you are safe, inside, cozy, and loving life.
Please let me know your thoughts on any of the topics mentioned above, or share some more bookish news in the comments below!