5 YA releases that I'm eagerly anticipating to read! (All but one are YA fantasy)
1: Meet Cute: Some People Are Destined to Meet by Jennifer L. Armentrout Sona Charaipotra, Dhonielle Clayton, Katie Cotugno, Jocelyn Davies, Nina LaCour, Emery Lord, Katharine McGee , Kass Morgan, Meredith Russo, Sara Shepard, Nicola Yoon, Ibi Zoboi, Julie Murphy.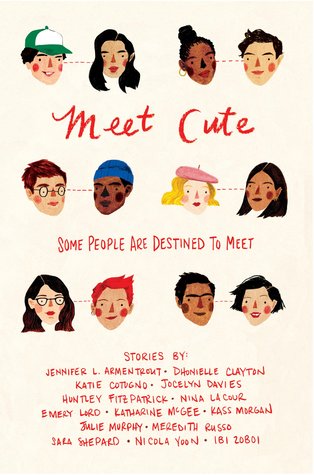 Whether or not you believe in fate, or luck, or love at first sight, every romance has to start somewhere. MEET CUTE is an anthology of original short stories featuring tales of "how they first met" from some of today's most popular YA authors. 
Readers will experience Nina LaCour's beautifully written piece about two Bay Area girls meeting via a cranky customer service Tweet, Sara Shepard's glossy tale about a magazine intern and a young rock star, Nicola Yoon's imaginative take on break-ups and make-ups, Katie Cotugno's story of two teens hiding out from the police at a house party, and Huntley Fitzpatrick's charming love story that begins over iced teas at a diner. There's futuristic flirting from Kass Morgan and Katharine McGee, a riveting transgender heroine from Meredith Russo, a subway missed connection moment from Jocelyn Davies, and a girl determined to get out of her small town from Ibi Zoboi. Jennifer Armentrout writes a sweet story about finding love from a missing library book, Emery Lord has a heartwarming and funny tale of two girls stuck in an airport, Dhonielle Clayton takes a thoughtful, speculate approach to pre-destined love, and Julie Murphy dreams up a fun twist on reality dating show contestants. 
This incredibly talented group of authors brings us a collection of stories that are at turns romantic and witty, epic and everyday, heartbreaking and real.
2: The Cruel Prince (The Folk of the Air #1) by Holly Black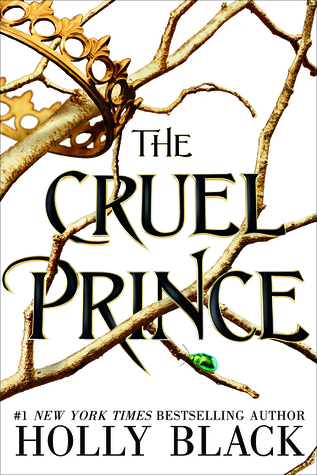 Of course I want to be like them. They're beautiful as blades forged in some divine fire. They will live forever.
And Cardan is even more beautiful than the rest. I hate him more than all the others. I hate him so much that sometimes when I look at him, I can hardly breathe.
Jude was seven years old when her parents were murdered and she and her two sisters were stolen away to live in the treacherous High Court of Faerie. Ten years later, Jude wants nothing more than to belong there, despite her mortality. But many of the fey despise humans. Especially Prince Cardan, the youngest and wickedest son of the High King.
To win a place at the Court, she must defy him–and face the consequences.
In doing so, she becomes embroiled in palace intrigues and deceptions, discovering her own capacity for bloodshed. But as civil war threatens to drown the Courts of Faerie in violence, Jude will need to risk her life in a dangerous alliance to save her sisters, and Faerie itself.
3: NeverSea (Echoes of the Lost, #1) by Jenetta Penner & David R. Bernstein
Forced under the sea, seventeen-year-old Arya fights, alongside her sisters, to take down the Syndicate—a group looking to genetically redesign humanity against their will. When a routine patrol goes horribly wrong, she reunites with Peter, the ousted former leader of the Lost Boys. Arya and Peter's tortured past, filled with genetic experimentation, fuel their need for justice.
Years earlier, Peter left young Arya when she needed him the most, leaving her torn from James, the love of her life.
Now, Arya has no choice, but to trust Peter or risk losing everything.
In a future where a constantly rising sea has swallowed nearly all the land on Earth, Arya and Peter fight to regain control of Neverland, a massive floating settlement, now controlled by the Syndicate.
The abilities forced on them years ago, are now the weapons they need to fight back.
4: Renegades (Renegades #1) by Marissa Meyer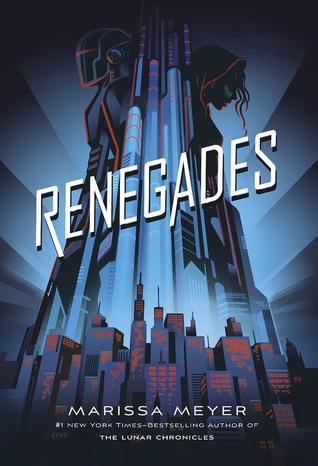 Secret Identities. Extraordinary Powers. She wants vengeance. He wants justice.
The Renegades are a syndicate of prodigies—humans with extraordinary abilities—who emerged from the ruins of a crumbled society and established peace and order where chaos reigned. As champions of justice, they remain a symbol of hope and courage to everyone…except the villains they once overthrew.
Nova has a reason to hate the Renegades, and she is on a mission for vengeance. As she gets closer to her target, she meets Adrian, a Renegade boy who believes in justice—and in Nova. But Nova's allegiance is to a villain who has the power to end them both.
5: The City of Brass (The Daevabad Trilogy #1) by S.A. Chakraborty
Nahri has never believed in magic. Certainly, she has power; on the streets of 18th century Cairo, she's a con woman of unsurpassed talent. But she knows better than anyone that the trade she uses to get by—palm readings, zars, healings—are all tricks, sleights of hand, learned skills; a means to the delightful end of swindling Ottoman nobles. 
But when Nahri accidentally summons an equally sly, darkly mysterious djinn warrior to her side during one of her cons, she's forced to accept that the magical world she thought only existed in childhood stories is real. For the warrior tells her a new tale: across hot, windswept sands teeming with creatures of fire, and rivers where the mythical marid sleep; past ruins of once-magnificent human metropolises, and mountains where the circling hawks are not what they seem, lies Daevabad, the legendary city of brass?a city to which Nahri is irrevocably bound. 
In that city, behind gilded brass walls laced with enchantments, behind the six gates of the six djinn tribes, old resentments are simmering. And when Nahri decides to enter this world, she learns that true power is fierce and brutal. That magic cannot shield her from the dangerous web of court politics. That even the cleverest of schemes can have deadly consequences. 
After all, there is a reason they say be careful what you wish for…
---
Which of these are you keen to read? Or are you impatiently waiting for another new release? Comment below!